EAA Chapter 1298 Local Site

2475 Broad St, Brooksville, FL 34604 - EAA1298@gmail.com.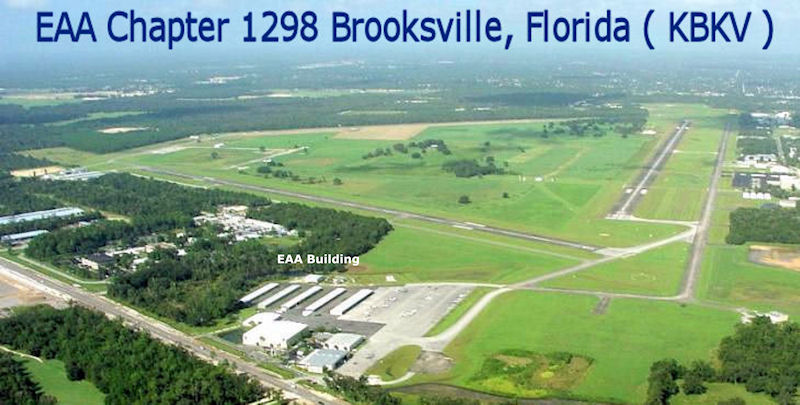 Coordinates: N28°28.42' / W82°27.33' Located 06 miles SW of Brooksville Florida on 2402 acres of land. Surveyed Elevation is 76 feet MSL. Traffic Pattern Altitude: 1000 AGL (1076 MSL) Magnetic Variation from 2000 is 4° West
Directions to EAA Chapter 1298 Events
---
---
September 7th
Breakfast 8:00
Chapter Meeting 9:00 am

Chapter Calendar
1
2
3
4
5
6
7
8
9
10
11
12
13
14
15
16
17
18
19
20
21
22
23
24
25
26
27
28

August 28
Board Meeting 6:00 pm
---
---
Next Young Eagles Rally - To be Announced

---

EAA 1298 Resource Center Construction
---
---
Welcome!
EAA Chapter 1298 is a group of aviation enthusiasts in the Hernando County area with the goals of promoting continuing aviation education and safety, fostering community involvement through the organization of airport events, introducing our community's young to the joys of flight, and promoting a means of aviation related camaraderie among our members. The Chapter has it's meeting on the first Saturday of each month. The meetings will start at 9:00AM. We'll have coffee and donuts before and after the meeting. The hangar is accessed by way of the South East drive-through gate off Highway 41.
Chapter members, please call Merle Wagner at 813-758-4196 if you need the gate code . Please park on the grass on north side of the EAA Building located just west of the five T-Hangers.
Membership is open to anyone who has a love of aviation. Guests are always welcome, too. If you're looking to join an EAA chapter, or you happen to be passing through, stop in on our next meeting or come to one of our events. We'd love to have you.
---